The Care you receive is at NO COST to you.
IDEAL Home Health Care is a Medicare / Medicaid certified Agency. If you are eligible for Medicare A Benefits, we will provide benefits at no costs to you or your family. We are also affiliated with major managed care plans and most insurance carriers
Contact Our Home Healthcare Agency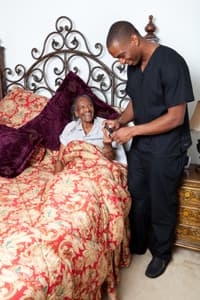 At IDEAL Home Health Care, we understand that when it comes to home healthcare new patients and their families tend to have many questions for the home healthcare agencies before beginning treatment. For example, both patients and their families will need to understand their complete home health plan as well as all of the services which will be provided to them. Additionally, our patients frequently have questions regarding Medicare or health insurance coverage and payment options for their home health services.

If you have questions about the specific services that our home healthcare agency provides, about our home healthcare agency in general, or about arranging homecare services for you or a loved one, please contact us use the form below. You can also contact the professionals at our St. Louis home healthcare agency directly with the contact information below.
IDEAL Home Health Care Agency in St. Louis, Missouri
Our Home Healthcare Agency's Commitment to Patient Education
At our home healthcare agency, it is important to us that each of our patients completely understands their prescribed treatment plan and the payment terms for these services before beginning any treatment. We are dedicated to educating patients on treatment options and homecare options. We work closely with patients and their physicians in order to develop a home healthcare program that is the best fit for the patient's needs and helps promote the best quality of life for our patient. Unlike some home healthcare agencies that do not offer this same level of commitment to patients, we are available to answer any and all questions that patients and their families may have when developing a home healthcare program and providing home care services.
Please feel free to browse the frequently asked questions below to find the answers to some of the most commonly asked questions that our home healthcare agency receives or contact us directly using the information above for individualized consultation and answers to your questions.
What are the services your home healthcare agency offers?
While we specialize in providing geropsychiatric care for seniors and elderly patients suffering from mental health illnesses and complications, we also offer a complete range of medical homecare services that you would expect to find at any home health agency. This includes:
What are the qualifications for receiving care from your home healthcare agency?
The requirements to qualify to receive mental health or nursing care services from IDEAL Home Health Care are like those of other home healthcare agencies. These include:
Patients must be homebound
Patients must require intermittent care
Services must be prescribed by a patient's doctor
Care must be medically necessary
For more information about the requirements for qualifying for services from our home healthcare agency, visit our Home Health Care Services for Patients and Families page.
Who pays for the home care services provided by your home healthcare agency?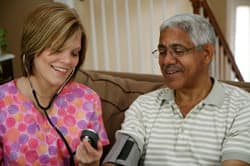 Like most home healthcare agencies, IDEAL Home Health Care is affiliated with most major health insurance carriers and managed care plans and we are certified by Medicare and Medicaid. Because of this, our homecare services are an affordable option for most patients, and patients who are eligible for Medicare Part A Benefits pay no out of pocket costs for our homecare services.
To learn more about payment arrangements for our home healthcare services, please talk with one of our insurance specialists who will help you develop a personalized payment plan, verify coverage, and bill insurance carriers directly for the services provided by our home healthcare agency.
In what areas does your home health agency serve?
As a St. Louis home healthcare agency, we offer services to patients located throughout the greater St. Louis area. This includes in:
St. Louis City
St. Louis County
St. Charles County
Jefferson County
Franklin County
Ste. Genevieve County
St. Francois County
Washington County
How can I refer a patient to your home healthcare agency?
Physicians, psychiatrists, or other medical providers as well as family members or friends can refer a patient to our home healthcare agency for treatment. Please visit our Nursing and Psychiatric Home Health Care Referrals page to download a referral form and to learn more information.