Home Infusion Services & Infusion Therapy Nursing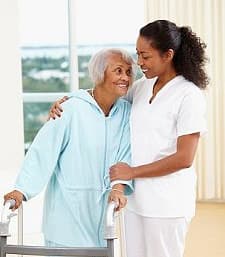 At IDEAL Home Health Care, we offer home infusion services for patients who are returning home from a hospital stay, living with chronic illnesses, or otherwise require some sort of home infusion or IV infusion therapy in order to treat or manage their medical conditions. With our home infusion services, we can perform infusion therapy, educate patients, and manage patients home infusion therapy programs in order to help patients who are dealing with a number of diseases including chronic or rare diseases. Because we are Medicare / Medicaid certified and we are affiliated with many major managed care plans and insurance carriers, our home infusion services are often available at little or no cost to patients.
To learn more about our home infusion services and infusion therapy nursing and for help with insurance verification and authorization, please contact our St. Louis home healthcare agency today online or by phone.
What are Home Infusion Services
As part of our home infusion services, our specialized infusion therapy nurses can administer medication and other nutrients through an intravenous needle or catheter. Typically home infusion services and IV infusion therapy is prescribed to patients whose conditions are so severe that they cannot effectively be treated and controlled through the use of oral medications. Most home infusion services involve the administration of drugs intravenously using IV infusion therapy. However, in some cases, home infusion services may require administering drugs or nutrients through other non-oral routes such as by using intramuscular injections, epidurals, or catheters.
Types of home infusion services that our infusion nurses can provide include:
Total Parenteral Nutrition (TPN)
Antibiotic Therapy
Steroid Therapy
Colony Stimulation Factors
Chemotherapy and Nausea Control
Hydration
Pain Management
Midline Catheter and PICC Placement
Central Line Catheter Maintenance
Hyperemesis
During home infusion services, our infusion nurses will work closely with each patient's pharmacist or primary care physician to make sure that the patient's care and treatment goals are coordinated and met. Our nurses can work with patients to educate patients about treatment, help them feel comfortable during treatment, monitor progress, report to and coordinate with doctors, and manage home infusion supply needs. We can also answer questions that patients and their family members may have about home infusion services and provide education to patients and their families.
Conditions Home Infusion Services can Treat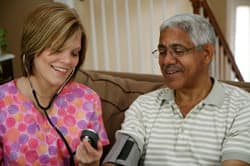 Home infusion services are typically used to treat a wide variety of diseases and medical conditions. The types of diseases that are most often treated with home infusion services include those that are unresponsive to oral antibiotics, certain types of cancer and cancer-related pain, and gastrointestinal diseases that prevent normal function of the gastrointestinal system.
Some specific diseases often requiring home infusion services for treatment include:
Cellulitis
Sepsis
Osteomyelitis
Certain Types of Cancer
Congestive Heart Failure
Crohn's Disease
Hemophilia
Immune Deficiencies
Multiple Sclerosis
Rheumatoid Arthritis
Learn More About Our Home Infusion Services
At IDEAL Home Health Care, all of our home infusion services are performed by infusion therapy nurses whose skills are validated annually and many of whom are certified by the Intravenous Nurses Certification Corporation and hold the CRNI credential. This ensures that our nurses are knowledgeable in the clinical monitoring and administration of IV therapy and that they follow the standards established by the Intravenous Society. With their extensive experience and training, our nurses are prepared to provide home infusion services for each of our patients and to teach patients and their caregivers how to administer IV medications and manage their infusion therapy program.
To qualify for home infusion services from IDEAL Home Health Care, patients must:
Home immediate access to a telephone
Live in a home environment that provides adequate conditions for home infusion therapy
Understand the procedures and potential side effects of the treatment
Agree to the prescribed home infusion treatment plan
To learn more about our home infusion services or to request home infusion therapy services for you or a loved one, please contact us today!