Home Health Nursing in the St. Louis Area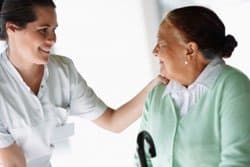 As a St. Louis based home health nursing agency based out of Kirkwood, Missouri, IDEAL Home Health Care offers our homecare services to patients located throughout the entire St. Louis area. This includes for patients living in St. Louis City and those living in many surrounding counties. If you are interested in our home health nursing services for yourself, a loved one, or a patient located in the St. Louis area, please contact our home healthcare agency using the information below or contact us through our website online.
IDEAL Home Health Care in St. Louis
1099 Milwaukee Street, Suite 205
Kirkwood, Missouri 63122
Our home health nursing services are available to patients located in an around the entire St. Louis area including in:
St. Louis City
St. Louis County
St. Charles County
Jefferson County
Franklin County
Ste. Genevieve County
St. Francois County
Washington County
Our Home Health Nursing Services
The home health nursing services that we provide for our St. Louis area clients include a variety of specialty nursing services as well as other medical and mental health care services. Each of these services is performed by skilled caregivers. Our primary goal with every home health nursing and homecare service is to provide the best quality of care to our patients in the comfort of their own homes and to design a plan of care that will help patients reach their optimal level of function. Additionally, by offering our specialized geropsychiatry program, we are uniquely suited to deal with the prevention and treatment of mental disorders in our elderly patients.
Home health nursing and homecare services we offer to our St. Louis area patients include:
General Medical / Surgical Home Care Nursing: With our general medical / surgical home health nursing services, we can help with a variety of services for St. Louis area patients including providing direct care, teaching, and assessments.
Speciality Nursing Programs: The specialty home health nursing services that we offer include infusion therapy, mental health nursing, and enterostomal therapy.
Infusion Services: Our home health nursing specialists can provide a variety of infusion services including the administration of IV infusion therapy and / or education for patients and their caregivers for how to administer IV medications.
Mental Health Nursing: With our mental health services, our home health nursing specialists can offer the assessment, treatment, and education of mental health conditions for patients who are experiencing acute episodes, recent diagnosis, or recent exacerbation of mental illnesses.
Geropsychiatry Programs: With our Geropsychiatry programs, we specialize in the treatment of mental health disorders and mental illness in elderly patients. Therefore, we can offer treatment including psychiatric nursing assessments, evaluations, and testing as well as patient education, monitoring and management, and psychotherapy interventions and counseling.
Rehabilitative Therapy: As part of our homecare services, we offer rehabilitative therapy services including physical, occupational, and speech therapy.
Home Health Aide Services: Our home health aides can provide a variety of services to supplement a patient's medical and home health nursing care including light housework, laundry, and meal preparation.
Medical Social Work Services: Our medical social workers help patients by evaluating and assisting patients with social, economic, and emotional issues related to developing treatment and home health nursing plans.
Home Care Dietitian and Nutrition Support Services: Our dietitians and nutritional support nurses can educate patients and caregivers on new dietary needs and concerns.
Telehealth Nursing Services: These services allow patients to take their vital signs from home every morning and allow patients living with chronic diseases to maintain independence while managing their health.
Total Joint Replacement Programs: Total joint replacement programs are ideal for patients who will be or recently have undergone total joint replacement surgery. With these programs our home health nursing specialists provide important care information that can reduce total recovery time for patients.
Learn More About Our St. Louis Home Health Nursing Services
If you would like to learn more about any of the mental health and home health nursing services available from our St. Louis homecare agency, please contact us directly online or by phone. As a leading St. Louis home health nursing agency, we look forward to working with you and providing quality homecare to your loved ones or patients.