Homecare Dietitian and Nutritional Services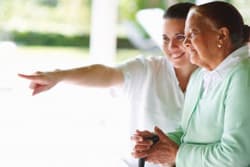 As part of the homecare services that we can provide to support our patients' physical and mental health needs, we offer homecare dietitian and nutritional support services. With these services our homecare dietitians and nurses can provide nutritional support, treatment, and diet planning for those who require a sudden change in diet due to the diagnosis of a disease or condition. This includes providing nutritional support and education for individuals who are in a period of transition to or back from tube feeding to oral nutrition.
Our homecare dietitians can assist patients in diet planning and provide nutritional support for patients suffering from a wide variety of chronic illnesses and diseases. This includes for patients suffering from:
Type 2 Diabetes
Heart Disease
Gastrointestinal Diseases
Kidney Disease
Liver Disease
Gallbladder Disease
Unintended Weight Loss
If you would like to learn more about our nutritional support services or you are interested in working with a homecare dietitian to develop a nutritional plan or receive nutritional support for you or a loved one, please contact our home healthcare agency online or by phone.
Services Our Homecare Dietitians Provide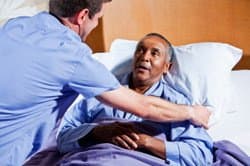 Our homecare dietitians can provide a variety of nutritional support services to patients who have unique dietary needs as a result of chronic diseases or other health conditions. This includes providing education, counseling, and training for patients and their caregivers. Therefore, with help from a homecare dietitian, patients can learn to live with illnesses and can continue to live in their home while managing their disease.
The main types of nutritional support services that our homecare dietitians and nutrition support nurses can provide include:
Specialized Diet Planning: Specialized diet planning is where a homecare dietitian works with a patient to create an individualized diet plan that can address the patient's special health needs. This also includes education from the homecare dietitian for a patient and his or her family members that focuses on nutrition concerns pertaining to a patient's particular illness.
Enteral Nutrition: Enteral nutrition is a nutrition support service for patients who have functioning digestive tracts, but as a result of a medical condition, are unable to receive nutrients by mouth. This is commonly required for stroke patients who have trouble swallowing, patients with neuromuscular diseases, or patients with head or neck cancer. Therefore, the patient receives nutrition through a feeding tube placed in the patient's stomach or intestine.
Total Parenteral Nutrition (TPN): This nutrition support service is for patients who are unable to receive nutrients by mouth or feeding tube. Therefore, it uses home infusion services to supply patients with the balanced nutrition as prescribed by their physician through an IV needle.
Learn More About Our Homecare Dietitian & Nutritional Support Services
If you would like to learn more about our nutrition support and homecare dietitian services, please contact us today! After contacting us for homecare dietitian and nutritional support services, our homecare dietitians and nutrition support nurses can work with you or your loved one's physician in order to determine the best nutritional support plan to ensure complete health. We will also work with Medicaid / Medicare or your insurance company to ensure that you receive the nutritional support services you need at little or no cost to you.