Health Care Provided at NO COST to you.
IDEAL Home Health Care is a Medicare / Medicaid certified Agency. If you are eligible for Medicare A Benefits, we will provide benefits at no costs to you or your family. We are also affiliated with major managed care plans and most insurance carriers.
IDEAL Home Health Care: Homecare for Seniors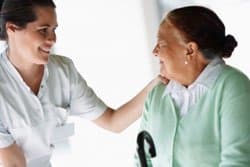 IDEAL Home Health Care is a homecare company offering home health care services to seniors living in the St. Louis area. We take pride in our ability to provide the best quality of care to each of our homecare patients in the comfort of their own homes. We offer a complete range of homecare services including skilled nursing, physical therapy, occupational therapy, social work services, and home health aide services. We are also one of the few homecare companies specializing in geriatric psychiatry, a subspecialty of psychiatry dealing with the study, prevention, and treatment of mental disorders within the elderly population.
Our homecare services are available to seniors on an intermittent or ongoing basis for those who have received a physician's order for the specific services. With our homecare services, we can offer treatment, education, and care to patients which will help to increase independence while helping individuals who are recovering from illness or injuries or who are learning to live with recently diagnosed ongoing illnesses.
Candidates for Our Homecare Services
Our homecare services are available to patients living in and around the St. Louis area who have had their primary care physician or psychiatrist recommend or prescribe our medical homecare services. Candidates for our homecare services include those who:
Are of advanced age, 65 or older
Are living at home alone or with an elderly spouse
Live in the greater St. Louis area including in St. Louis City, St. Louis County, St. Charles County, Jefferson County, Franklin County, Ste. Genevieve County, St. Francois County, and Washington County
Have open wounds which require treatment
Have had repeated hospitalizations
Have feeding tubes
Are returning home from a prolonged hospital stay
Have recently received a new diagnosis or undergone a recent surgery
Have received a Congestive Heart Failure (CHF) or Chronic Obstructive Pulmonary Disease (COPD) diagnosis
Are suffering from a chronic illness
Need medication management
Are suffering from unstable or newly diagnosed diabetes
Are recovering from a fracture requiring therapy
Recently received a total hip or total knee replacement
Complete Homecare Services for all of your Needs
As a leading homecare company, we at IDEAL Home Health Care offer a complete variety of homecare services to candidates living in and around the St. Louis area. These services include a variety of skilled nursing and therapy services as well as special geropsychiatry and mental health programs. With our wide range of homecare services and programs, we can treat the medical and psychiatric needs of our patients.
Our complete range of homecare services and specialty programs available to our patients includes:
Learn More About IDEAL Home Health Care's Homecare Services and Programs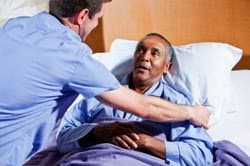 If you would like to learn more about the homecare services and programs that we offer or you would like to work with our homecare specialists to set up homecare services for you, a patient, or a family member, please contact us today. Physicians, psychiatrists, other medical professionals, or family members can refer a patient for our homecare services by completing our Homecare Referral Forms or by contacting us directly by phone.