About Our Home Healthcare Company:
IDEAL Home Health Care
IDEAL Home Health Care is a home healthcare agency committed to providing quality home healthcare to senior and elderly patients located in and around the St. Louis area. Our staff is dedicated to the provision of home healthcare services tailored to each of our client's individual and unique needs. Our home healthcare services and specialty programs are unique as we recognize each client and caregiver's individual needs. This allows us to deliver the highest quality of care for each patient.
We offer a complete range of home healthcare services to our patients including specialty and skilled nursing services, rehabilitation and therapy services, mental health and geropsychiatric services, and a variety of supplementary services to help individuals who are living with and attempting to overcome chronic, long-term illnesses or who are recovering from accidents, illnesses, or injuries. To learn more about our services for you, a loved one, or a patient, please complete our home healthcare referral form or contact us today!
Guiding Principles for Our Home Healthcare Agency
At IDEAL Home Health Care, we are committed to serving the needs of all of our home healthcare patients and to promoting the physical and mental health of our patients by providing the best quality of care to patients in the comfort of their own homes. Our available services include general medical / surgical home care nursing, specialty nursing services, mental health nursing, geropsychiatric programs, rehabilitative services, total joint replacement programs, infusion services, telehealth nursing services, home health aide services, medical social work services, and homecare dietician and nutrition support services.
As a leading home healthcare company, our philosophy is guided by the following principles:
To design a plan of care that will meet the unique physical and mental health needs of patients and their families.
To tailor our services to assist the patient and family in achieving an optimal level of function
To base our care on respect for the dignity and worth of each individual.
A Home Healthcare Agency Specializing in Geropsychiatric Care
One feature that makes our home healthcare company unique as opposed to other home health care agencies is our special mental health program available for treating individuals dealing with mental illnesses. We specialize in providing geropsychiatric nursing services, which is a field of mental health dealing especially with the study, prevention, and treatment of mental disorders in the elderly population. When offering psychiatric and mental health services our home healthcare nurses will collaborate with primary care physicians and psychiatrists as necessary in order to assure that the proper services are in place and are well-coordinated.
Your Choice for St. Louis Home Healthcare Services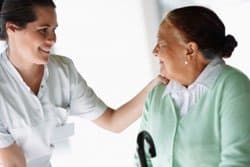 IDEAL Home Health Care is Medicare and Medicaid certified and affiliated with many major managed care plans and insurance carriers to provide affordable care to many patients around the St. Louis area. We are an equal opportunity employer and our home healthcare company is committed to providing services to all people without regard to race, color, creed, sex, national origin, handicap, sexual orientation, age, marital status, diagnosis, or contagious disease.
To begin working with our skilled nurses, psychiatric home care nurses, and other dedicated medical professionals for any home healthcare services for you, a loved one, or a patient, please contact us online.