TeleHealth Nursing & Home Monitoring Service
Our TeleHealth nursing services can help seniors and elderly patients who are living with a variety of long-term and chronic illnesses including chronic heart failure, chronic obstructive pulmonary disease (COPD), depression, or post-traumatic stress disorder to manage and live with these diseases while maintaining their independence. For these individuals, the need to have vital signs and symptoms checked frequently often makes living own their own challenging. Therefore, these patients often have to move into a nursing home or pay for costly assisted living in order to frequently monitor and manage their medical needs.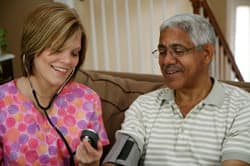 However, with the TeleHealth nursing services from IDEAL Home Health Care, physicians and nurses can easily monitor a patient's vital signs and other health related conditions remotely. This can catch issues before they become major concerns and can help prevent serious health problems from developing. Therefore, with our TeleHealth nursing services, individuals can maintain their independence and remain living at home while receiving the medical care necessary.
To learn more about TeleHealth nursing, contact our home healthcare agency online.
Our TeleHealth Nursing Services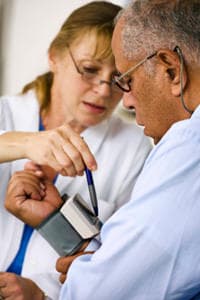 Using our TeleHelath nursing and health monitoring services is simple enough for anyone to learn. When you sign up for our TeleHealth nursing services, our nurses will set up the necessary equipment, a small TeleHealth monitor, and provide basic training to make sure that you completely understand how to use the TeleHealth nursing system.

After this training and set up, each of our patients can then remotely connect with a nurse at our central station to supply daily health information. These nurses are highly trained and prepared to offer superior health monitoring and information for our patients.

The following is the simple, step-by-step process that patients will encounter each day when using our TeleHealth nursing services to monitor their health from the comfort and convenience of their own homes.
Vital Signs Check: The first step in using the TeleHealth nursing system is to use the monitor to check your vital signs. This will include blood pressure, heart rate, oxygen saturation, temperature, and weight.
Health Questions: For the second step of the TeleHealth nursing process, the TeleHealth monitoring machine will ask you a series of up to ten "yes" or "no" questions. These questions are individualized to each patient's medical conditions and health needs and will help our nurses to further evaluate your health.
Nurse Review: After you complete the above routine, your results will be transmitted electronically through your regular home telephone to one of our TeleHealth nursing specialists. This nurse will then review and monitor the data daily to ensure your health and track changes in your condition.
Benefits of TeleHealth Nursing
From helping patients manage long term and chronic illnesses to allowing patients and seniors to maintain their independence, our TeleHealth nursing services offer a wide variety of benefits and advantages to patients. Some of the most important patient related advantages of TeleHealth nursing include:
Immediate access to care, which is especially important for patients living in rural areas
The ability to have access to direct, personal attention from a patient's health care provider without having to leave home and travel to a doctor's office
Early detection of complications and changes to a patient's medical condition which allows for overall better management of patient's health and can reduce or eliminate the need for traumatic emergency room visits and hospitalizations
Early discharge from hospitalized care because of adequate care and health monitoring at home
Reassurance for patients and family members of easy access to care from the comfort of a patient's own home
Reduced anxiety and an increased feeling of control over one's medical conditions
Increased independence for elderly patients and an alternative to being forced to move into assisted living situations
Improved feelings of empowered received from allowing patients to actively participate in their physical or mental health care program
Increased patient satisfaction with care
Reduced financial burden as compared to the costs of assisted living services or nursing homes
Learn More About TeleHealth Nursing
If you would like to learn more about our TeleHealth nursing services to determine if this remote health monitoring program is right for you or your loved one, contact our St. Louis home healthcare agency today.