Our Home Health Care Services: Information for Patients & Families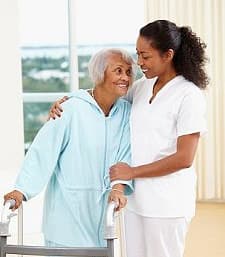 At IDEAL Home Health Care, we offer our complete range of home health care services to elderly and senior patients located throughout the entire St. Louis area. These home health care services include providing nursing and therapy services for patients who have recently received a new diagnosis for an ongoing disease, who are recovering from surgery or an accident, or who are overcoming a recent illness. We specialize in providing mental health nursing services to elderly patients and we offer a variety of geropsychiatric treatment programs including providing consultations and evaluations, education, and treatment for patients suffering from mental illnesses.

As a leading St. Louis home healthcare agency, our home health care services are available to patients living in all areas and counties around St. Louis including in St. Louis City, St. Louis County, St. Charles County, Jefferson County, Franklin County, Ste. Genevieve County, St. Francois County, and Washington County. To learn more about our home health care services for you or a loved one, please contact us online.
Our Available Home Health Care Services
Our home health care services are provided by highly trained and skilled nurses, therapists, and medical professionals in order to offer each patient the highest quality care to meet their needs. When offering our home health care services, we will work closely with each patient to design a plan of care that will meet their unique physical and mental health needs. We will tailor our services as needed to assist the patient and their family in achieving an optimal level of function. Therefore, we will develop the ideal treatment plan utilizing our home health care services and our specialty programs for psychiatric and medical treatment including our:
Mental Health Care Program
Dementia & Alzheimer's Care Program
Medication Adherence Program
The types of home health care services we offer include:
Qualifying for Home Health Care Services
At IDEAL Home Health Care, we have specific admission guidelines that apply to all patients interested in receiving care from our nursing and psychiatric home health care programs. These are listed below. Additional qualification guidelines may also apply for specific types of nursing or psychiatric home health care services, so please contact us for additional information.
In order to qualify for our home health care services including skilled nursing, therapy, and mental health care programs, a patient must:
Be of advanced age, at least 65 or older, and be living alone or with an elderly spouse.
Require the administration of home healthcare services as ordered by a physician.
Require medically necessary skilled nursing, rehabilitation therapy, or psychiatric care.
Be able to receive home healthcare services on a periodic or intermittent basis rather than continuous care required on a daily basis.
Be homebound, unless this is not required by the patient's payer. Homebound patients are defined as any patient who leaves their home infrequently and those that require a great deal of effort and often assistance to do so.
Learn More About Our Home Health Care Services
If you would like to learn more about our home health care services or you would like to receive answers to any of your questions about our home nursing or mental health care services for seniors, please contact our home healthcare agency today.