Geropsychiatric Programs for Mental Health Homecare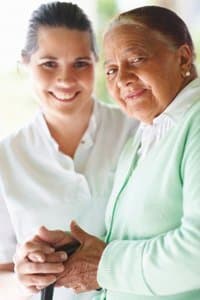 Geropsychiatric nursing is a subspecialty of psychiatric or mental health nursing that deals with the study, prevention, and treatment of mental disorders in the elderly population. At IDEAL Home Health Care, we are one of the few St. Louis homecare agencies that specializes in geriatric psychiatry. Therefore, we offer a wide range of geropsychiatric programs and can customize any program by working with a patient's psychiatrist or primary care physician to develop a program that allows the patient to achieve an optimal level of function and health.

To learn more about our geropsychiatric homecare programs for mental health patients, please contact the mental health nurses and professionals at our home health care agency today!
Geropsychiatric Mental Health Services We Offer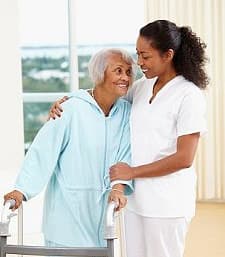 While our mental health and geropsychiatric programs can be customized based on any patient's physical and mental health needs, these programs are most often designed to address and treat dementia and Alzheimer's in the elderly population. Our geropsychiatric dementia and Alzheimer's care programs are designed provide treatment and education for people who show symptoms of dementia or suffer from Alzheimer's disease. As part of our dementia and Alzheimer's care, we aim to help caregivers cope with the day-to-day management of these conditions and provide important resources to optimize a patient's physical and mental health.
Some of the services we can offer as part of any geropsychiatric or mental health program include:
Performing psychiatric nursing consultations and evaluations with patients, their family members, and caregivers.
Offering psycho-education directed toward increasing the patient's level of knowledge and control over his/her Illness. This can be done by providing or teaching:

Symptom and Illness Management Strategies
Medication Management and Monitoring
Coping Strategies
Effective Communication Skills
Post hospitalization follow-up to assist the patient's transition from hospital to community life
Identification, coordination, and mobilization of community supports

Providing therapeutic intervention services, including:

Supportive Counseling
Clinical Case Management
Crisis Intervention
Caregiver Support and Education
Benefits of Our Geropsychiatric Mental Health Programs
Our geropsychiatric mental health programs offer a number of benefits for elderly patients and their families. These include:
Preventing hospitalizations for mental health conditions
Early detection and treatment of psychiatric and medical health issues
Increased independence and increased likelihood that patients can live in their homes longer
Improved quality of life and maximized mental and physical health status
Access to resources and community mental health services that can help during treatment
Education on coping skills for patients and caregivers to help manage behaviors and improve care
Reduced caregiver stress and improved quality of life for caregivers
Increased knowledge and understanding of disease processes and behaviors
Learn More About Our Geropsychiatric Homecare Programs
If you would like to learn more about our geropsychiatric homecare and mental health nursing programs, please contact us at our home healthcare agency. As a home health company specializing in mental health and geropsychiatric care for patients, we will work with each patient's primary care physician and psychiatrist when planning the personalized treatment program for each patient. This will help ensure coordinated care and can help to maximize a patient's mental and physical health.